Exclusive Speaker Interview With James Garner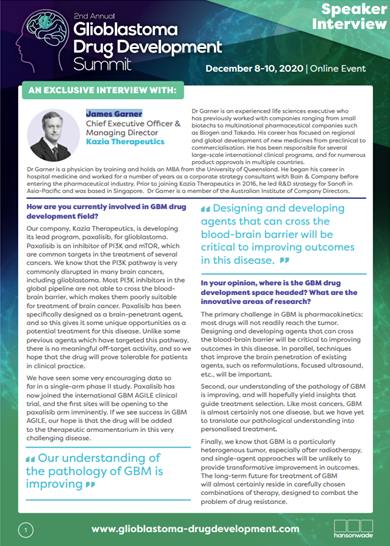 James Garner, Chief Executive Officer & Managing Director, Kazia Therapeutics
What's Inside:
Our company, Kazia Therapeutics, is developing its lead program, paxalisib, for glioblastoma. Paxalisib is an inhibitor of PI3K and mTOR, which are common targets in the treatment of several cancers. We know that the PI3K pathway is very commonly disrupted in many brain cancers, including glioblastoma. Most PI3K inhibitors in the global pipeline are not able to cross the bloodbrain barrier, which makes them poorly suitable for treatment of brain cancer. Paxalisib has been specifically designed as a brain-penetrant agent, and so this gives it some unique opportunities as a potential treatment for this disease. Unlike some previous agents which have targeted this pathway, there is no meaningful off target activity, and so we hope that the drug will prove tolerable for patients
in clinical practice.
We have seen some very encouraging data so...
Exclusive Presentation: Preclinical, Translational, & Clinical Data Supporting the Clinical Development of the ATM Inhibitor AZD1390
Steve Durant, DNA Damage Response, Early Oncology at AstraZeneca
What's Inside:
ATMi and DNAPKi are mechanistically and unsurprisingly superior radiosensitisers from in vitro and in vivo data
However, all DDRi have different 1) scheduling/PK profiles, 2) tumour-targeted vulnerabilities to exploit and 3) safety
profiles when combined with RT, enabling possibilities to test them all in certain clinical indications
Exclusive Presentation: Discovery and Preclinical Development of a PI3K Inhibitor for the Treatment of Glioblastoma
Exclusive Presentation: High Level Global Overview of Research & Clinical Development to Date for GBM